Custom Made WOSKKA DVDs!
Just For You!
Hanshi Dan Tosh and Kyoshi Sid Rayford will soon begin the creation of WOSKKA DVDs that will include katas and bunkai (kata technique applications) from the Shorin Kwoon Do Ryu and Kobayashi Ryu systems of Shorin-Ryu. The DVDs are sure to unveil hidden secrets and provide the viewer with information that will enrich the experience of training in karate.
WOSKKA's Disclaimer
WOSKKA makes no guarantee or promise that information or techniques on the DVDs will do anything other than further enhance the skills of the serious karate practitioner. Those who do not practice the katas that the techniques derive from may find it difficult to learn the techniques on the DVDs. WOSKKA will not be held responsible for the incorrect, unsafe or irresponsible usage of techniques taught on the DVDs.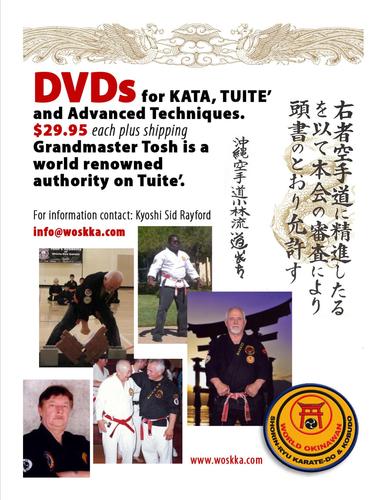 Each DVD a Unique Experiece
The content of the DVDs will consist of the agreed upon katas and techniques between WOSKKA and those placing the order. Thats right! When you place the order, the agreed upon content will then be recorded and sent to you upon the completion of the DVD. This is most certainly a unique and convenient method of obtaining this type of information. Aside from other seniors within the WOSKKA organization, President Hanshi Dan Tosh and Vice-President Kyoshi Sid Rayford represent a combined almost 100 years of training in karate.
E-mail Your Inquiries to Us! We Want to Hear From You!