2020 Member Dojos1
Links to WOSKKA Member Dojos
The following is a list of links to WOSKKA member dojos. Please click the links and browse the sites or pages of these member dojos.
WOSKKA Member Dojos
Web site of WOSKKA President Hanshi Dan Tosh's Academy of Karate in Brentwood, CA. Hanshi Tosh is the co-founder of WOSKKA along with Sid Rayford's teacher, the late Hanshi Sid Campbell.
Web site of WOSKKA Vice-President Hanshi Sid Rayford of Rayford Shorin-Ryu Karate & Kobudo in Merced, CA. Sid Rayford, student of the late co-founder Hanshi Sid Campbell, is a founding member of WOSKKA.
Web Page of WOSKKA Executive Board Member Kyoshi Calvin Tam's Xi Cheung Karate-Do dojo in Oakland, CA. Kyoshi Calvin Tam also trained under Hanshi Sid Campbell of Oakland, Ca.
Web Site of Rayford Shorin-Ryu Open Air Dojo of Phoenix, Arizona with Sensei Regina Giammona-Chief Instructor.
Web site of Kyoshi Michael Tobin's Willits Body Works Gym and Martial Arts Center in Willits, CA. Kyoshi Tobin is a lifetetme member of WOSKKA.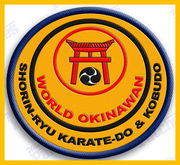 Facebook page of Hanshi Harold Nichols-9th Dan of Okinawan Goju-Ryu Karate. Hanshi Nichols is in the Washington State area and has done a great deal of work with the under-privileged children in the area.
Web site of Pedro J. Bernardy, NASM-CPT, CED, FNS. Health and Wellness Training, Martial Arts Instruction, Lifestyle Coaching in Walnut Creek, CA.
Link to Facebook page of Kyoshi Robert White of Hanford, Ca. Kyoshi Robert White and Hanshi Sid Rayford trained together under Hanshi Sid Campbell in the early 90's. Kyoshi White is a lifetime member of WOSKKA.