2015 Member Dojos1
Links to WOSKKA Member Dojos
The following is a list of links to WOSKKA member dojos. Please click the links and browse the sites or pages of these member dojos.
WOSKKA Member Dojos
Web site of WOSKKA President Hanshi Dan Tosh's Academy of Karate in Brentwood, CA.
Web site of WOSKKA Vice-President Kyoshi Sid Rayford of Rayford Shorin-Ryu Karate & Kobudo in Merced, CA.
Web Page of WOSKKA Executive Board Member Shihan Calvin Tam's Xi Cheung Karate-Do dojo in Oakland, CA.
Rayford Shorin-Ryu of Sonora, CA. is owned and operated by Renshi Don Anderson. Renshi Don Anderson is honoring his teacher, Kyoshi Sid Rayford, by continuing to name his school after his teacher. Renshi Don Anderson can be reached at 209-743-7452.
Web page of WOSKKA Executive Board Member Hanshi Barry Moyer of Walkerton, Indiana.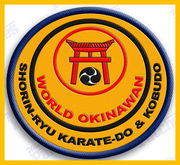 The above link is for the web site of Ukiah Shorin-Ryu Dojo located in Ukiah, California. Sensei Rick Travis is the Ukiah Shorin-Ryu Dojo Owner and Chief Instructor.
Web site of Beikoku Shorin-Ryu President Kyoshi Tim Evans and Vice-President Renshi Robert White.
Link to Facebook page of Kyoshi Robert White of Lemoore, Ca. Kyoshi Robert White, Kyoshi Tim Evans, and Kyoshi Sid Rayford trained together under Hanshi Sid Campbell in the early 90's.