WOSKKA's Leadership
Continuing the Mission
Although WOSKKA has new leadership, the mission of the association and the direction that it is going has not changed. President Dan Tosh and Vice-President Sid Rayford are both ensuring that Sid Campbell is remembered and that his wishes for the association that he began are honored.
Hanshi Sid Rayford-WOSKKA Vice President
Hanshi Sid Rayford-10th Dan is a 53 year veteran of karate and was the senior student of the late WOSKKA Co-Founder, Hanshi Sid Campbell. Hanshi Rayford is also a founding member of WOSKKA.
Hanshi Dan Tosh-WOSKKA President
Hanshi (Grandmaster) Dan Tosh-10th Dan is a 64 year veteran of karate and inherited the style of Shorin-Kwoon Do Shorin-Ryu from his late teacher, Musashi Miyagi. Hanshi Tosh co-founded WOSKKA with the late Sid Campbell in May 1996.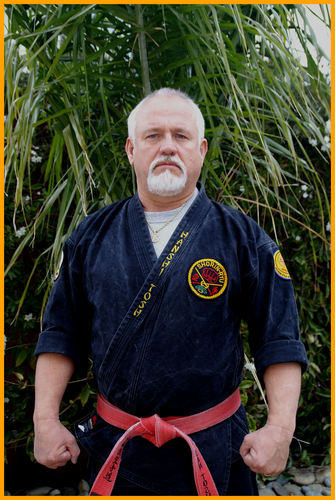 Friends of Many Years
Hanshi Tosh witnessed and took part in each and every promotion of Kyoshi Sid Rayford under Sid Campbell. When Kyoshi Sid Rayford received his "Shihan" title in 2004, it was Hanshi Tosh that tied the new red and white belt around his waist. Pictured Below: Hanshi Dan Tosh's recent visit to Kyoshi Sid Rayford's dojo in Merced, CA.